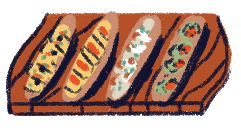 Carrer Vell, 4 - Valldemossa
The QuitaPenas is there because destiny decreed it.
An old 19th-century store, closed since 1978, was discovered by two men from Turin, Alessandro and Massimo. They decided to preserve the materials and furniture so as to create a unique space, where they have developed pa amb oli (bread with oil, in the local language) one of the most iconic of Mallorcan dishes. The bread part of it is creatively adorned with very tasty touches, and there are options for vegans.
They've been in Valldemosa since 2019 and will probably be there a lot longer.
https://www.quitapenasvalldemossa.com/